Nashville Hot Chicken (gluten free)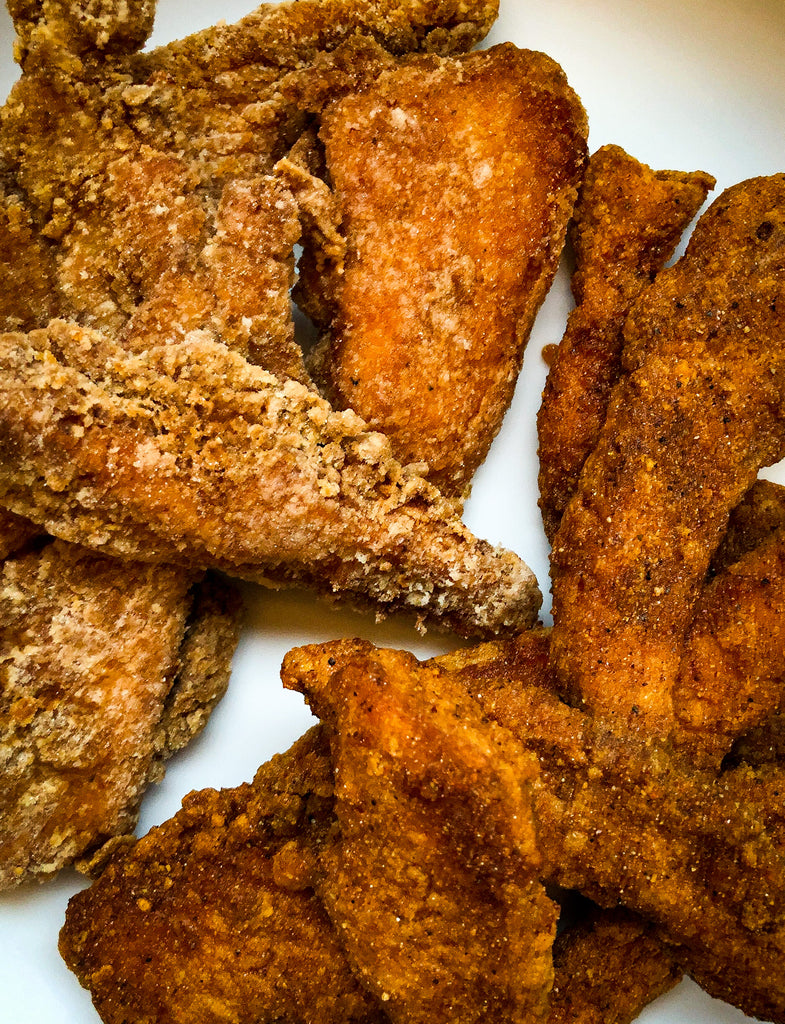 Everyone loves a bit of spice every now and again, and this take on Nashville hot fried chicken does not disappoint. We make this gluten free by using white rice flour and cornstarch to create a lovely coating that is light and tasty, but also spicy with our Parkdale Hot Remix. 
Ingredients
For the marinated chicken
2 boneless skinless chicken breasts (500g)
1 tablespoon hot sauce, we use Cholula brand
1 egg white, beaten
For the dredge
1/2 cup white rice flour
1/2 cup cornstarch
1/2 teaspoon salt
1/2 teaspoon baking soda
2 cups of canola oil for frying
Cut the chicken breast into 1/2 inch thick strips on an angle. Mix the chicken with two tablespoons of Parkdale Hot Remix, one tablespoon hot sauce and the beaten egg white. Allow to marinate for at least 2 hours.
While chicken is marinating, mix the dry ingredients together in a medium sized bowl. Set aside. 
When chicken is done marinating, toss one more time to distribute the marinade evenly and transfer 5-6 chicken strips to the dredge bowl. Toss the chicken with the dredge mix and lightly press the mix into each strip. This makes sure the dredge sticks to the meat and doesn't fall off when frying. Repeat with all the chicken and set aside on a small pan or a plate. Allowing the chicken to rest before frying helps the coating to stick better. 
As the chicken is resting in the dredge, put a large pan on the stove, add your canola oil and turn it to medium high heat (number 7 on your range) and allow to heat for 5-7 minutes. You do not want the oil to be smoking but quite hot. I put my hand over the oil to feel the heat or you can use a thermometer to test and see how hot it is. You want it to be around 350F-360F as the oil will cool when you place the chicken in it. 
When the oil is hot, place 5-6 chicken strips in the oil or as many that will fit without crowding the pan. Fry for 3 minutes and flip to the other side and fry for 3 more. Remove chicken from oil and put on a wire rack or plate while you repeat with the rest of the chicken. You may serve them as is, or follow the next steps for true Nashville Hot Chicken.
When your chicken is done, grab a large bowl and add the remaining Parkdale Hot Remix to it and add about 1/2 cup hot oil from your frying pan to it. Swish the bowl around lightly to incorporate the spice into the oil and then toss your chicken in it. This is your Nashville Hot sauce for your chicken, and yes, it is hot and will make you glow as you eat it.
Please enjoy responsibly.