Thai Green Curry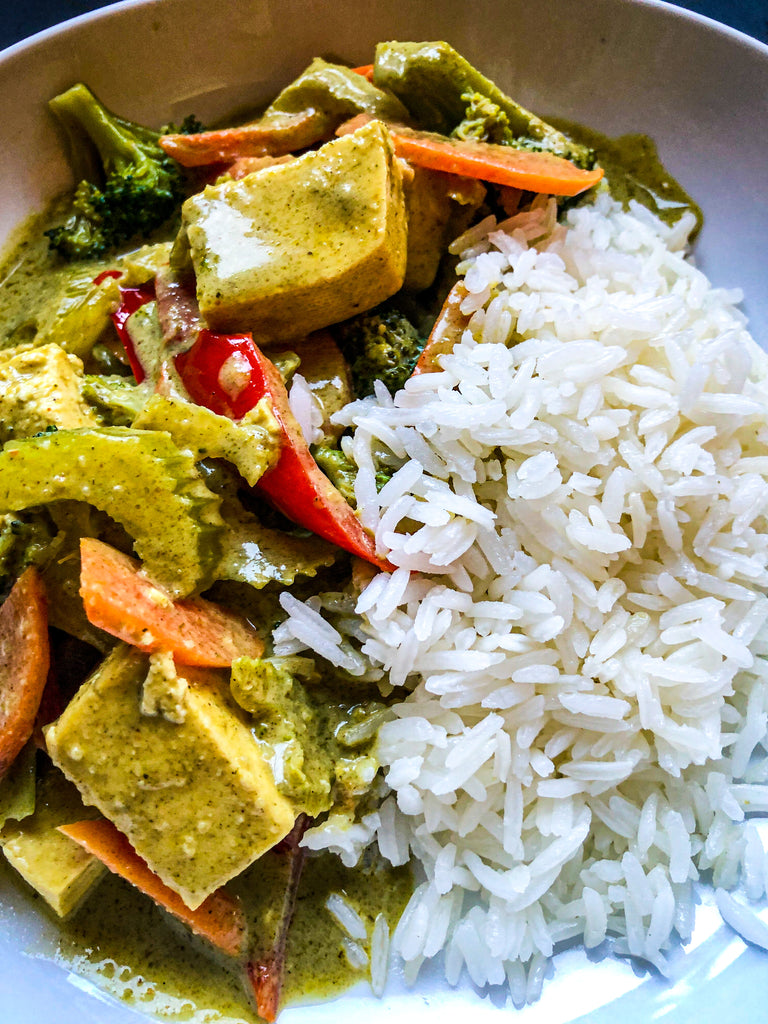 Ingredients for the green curry
1 can (400ml) Aroy D coconut milk
400ml water
1 medium carrot, sliced
2 ribs celery, sliced
1/2 head of broccoli, cut into medium florets
1/2 large red bell pepper
1/2 package extra firm tofu, cut into 1cm bricks
 Ingredients for the rice
1 cup jasmin rice
1/2 teaspoon canola oil
1 1/2 cups water
1/4 teaspoon salt
Put a medium size frying pan on medium heat and add the coconut milk. Fill the empty can with water and add it to the pan. Stir in the 2 tablespoons of Phuket Island Curry powder and simmer for 10 minutes. 
While the sauce is cooking, heat up a small pot with the canola oil and rice on medium heat. Stir the rice to coat it with the oil and continue to stir it until the rice starts to toast and become fragrant, about 4 minutes. Add in the water and salt and stir to combine. Cover with a tight fitting lid and bring to a boil for 1 minute. Turn off the burner and leave the pan on the hot burner for 20 minutes.
As the rice and sauce are cooking, prepare your vegetable accordingly. When the sauce has finished cooking for 10 minutes, place the vegetables and tofu in the sauce and cook for an addition 5-7 minutes. 
Fluff the rice with a fork and scoop rice into a bowl, top with the green curry and your meal is set.