Tasty Taco Salad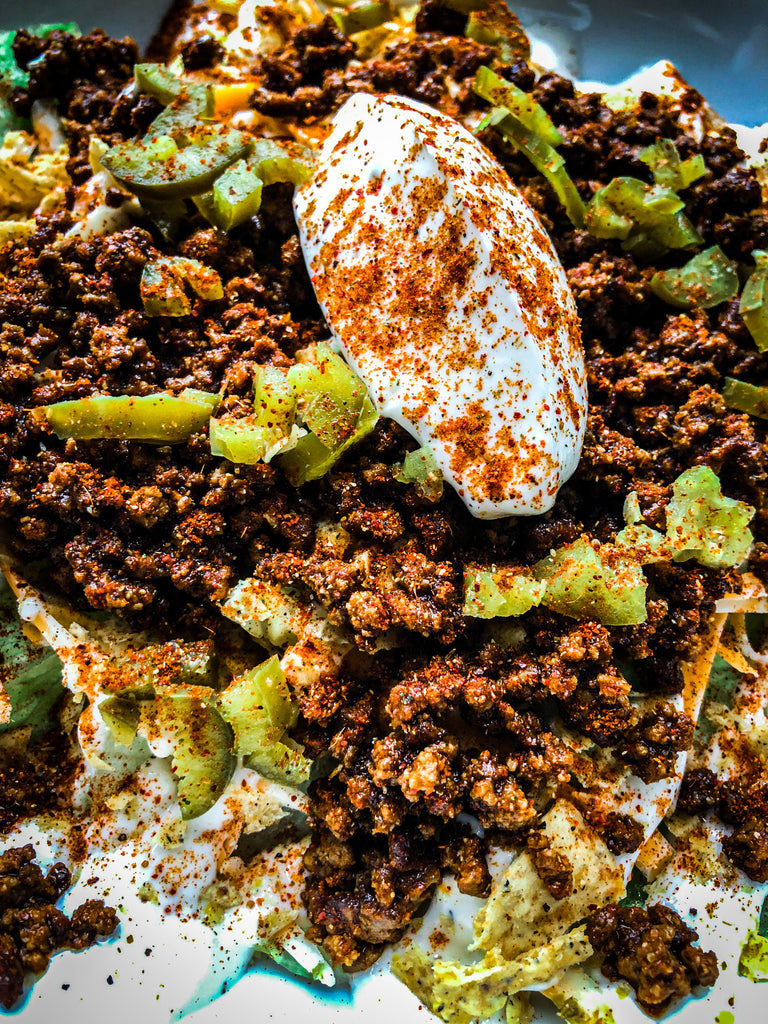 Do you like tacos? What about salad? If you said yes to one or both of these questions, then do we have something for you! 
Taco salad has become a staple for us here at Side Hustle, as it brings two of the greatest things ever together. Beef and our Taco Tuesday seasoning. Sorry salad, you're not quite there yet. 
This recipe is easy, tasty and will make you want to eat salad all the time. 
Ingredients:
1lb, ground beef
1 head iceberg lettuce, chopped
1 red pepper, sliced thin
Chopped cherry tomatoes
Kraft Catalina dressing (or Hidden Valley Ranch dressing)
1 handful Tostitos Multigrain Rounds
Pickled jalapeños, chopped (optional)
1 dollop Greek yogurt (optional)
1. Heat a large sauté pan over medium high heat and add your ground beef. With a spatula, chop up the meat in the pan so that it looks crumbly and begins to cook. Continue cooking until the juices have evaporated and the meat begins to sizzle and brown. When I say brown, I mean brown. Not grey, but dark brown. 
2. Once browned, add in the Taco Tuesday and sauté for 1 minute until fragrant. Add 2 cups of water and turn the heat down to medium. Simmer for 15 minutes or until 95% of the water is gone. 
3. While the meat is cooking, prepare the rest of the ingredients. Roughly cut up the iceberg lettuce into large squares, about 1 inch. Slice the red pepper as thick or thin as you like. Chop your cherry tomatoes in half. Grate a good amount of the cheese of your choice, we used a jalapeño cheddar from Armstrong which adds an extra punch of heat. Set ingredients aside in a bowl and refrigerate until ready to use. 
4. When the meat is ready, you can allow it to cool for 5 minutes in the pan or use it right away if you like a hot salad. I enjoy a moderately warm salad, so I allow it to cool. Mix the salad ingredients together with the Catalina, crush up the Tostitos, top with meat and put that dollop of Greek yogurt straight smack dab in the middle. Sprinkle with a bit more Taco Tuesday and pickled jalapeños if you're using them. 
5. Finally take a hot photo for the 'gram, tag @sidehustlespice and dig in! 
🚨Disclaimer: this may or may not be healthier than tacos 🤷🏻